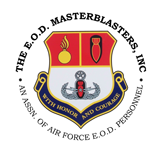 We are an association of Air Force EOD Personnel. We created this group to become a resource of information, support, and camaraderie for Airforce EOD personnel and their loved ones.
EOD MasterBlasters is an association that provides its members with an avenue to maintain contact and camaraderie. This is done through the semi-annual publication of the association newsletter, The Hellbox Times, and a membership roster published every other year, with updates in between each major roster publication. Further, an annual reunion is held in Ft. Walton Beach, Fla., which in the past has brought members in, not only from around the United States, but also as far away as England.
If you would like to become a member, please check out our Membership Application page.